Now I'm in Klamath Falls. That's great. But this is the next biggest town where they could solve my RV problem. I'm definitely not happy how Cruise America handled this, too slow! This I could have solved myself faster. So I hang around one day in Lakeview. But I stayed one night at Goose Lake again and there are some more sunset pictures. Same place, other drama.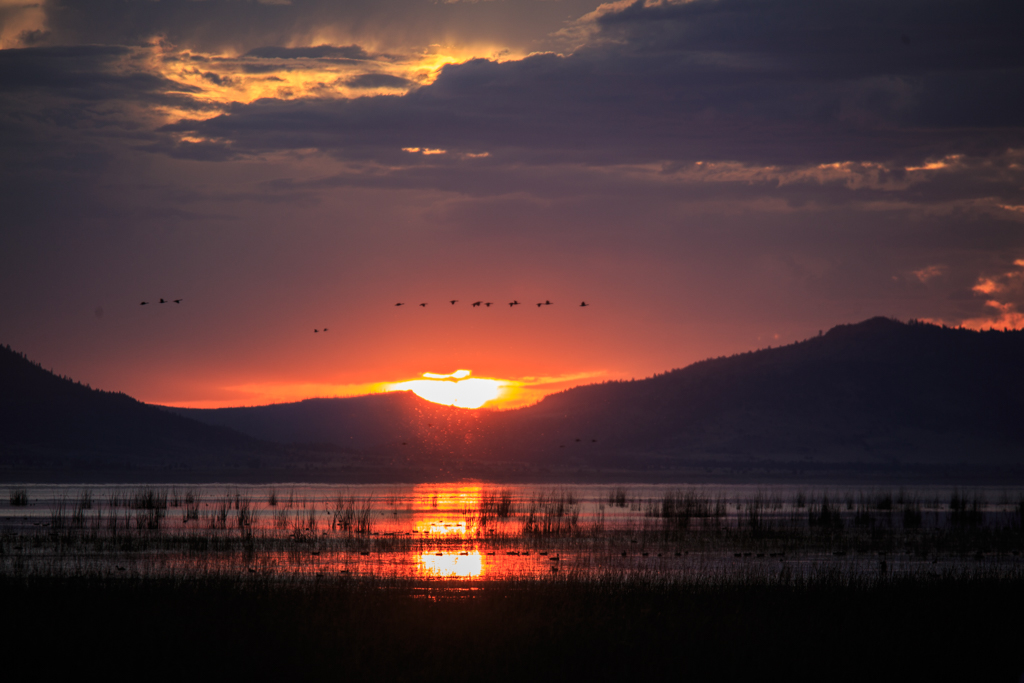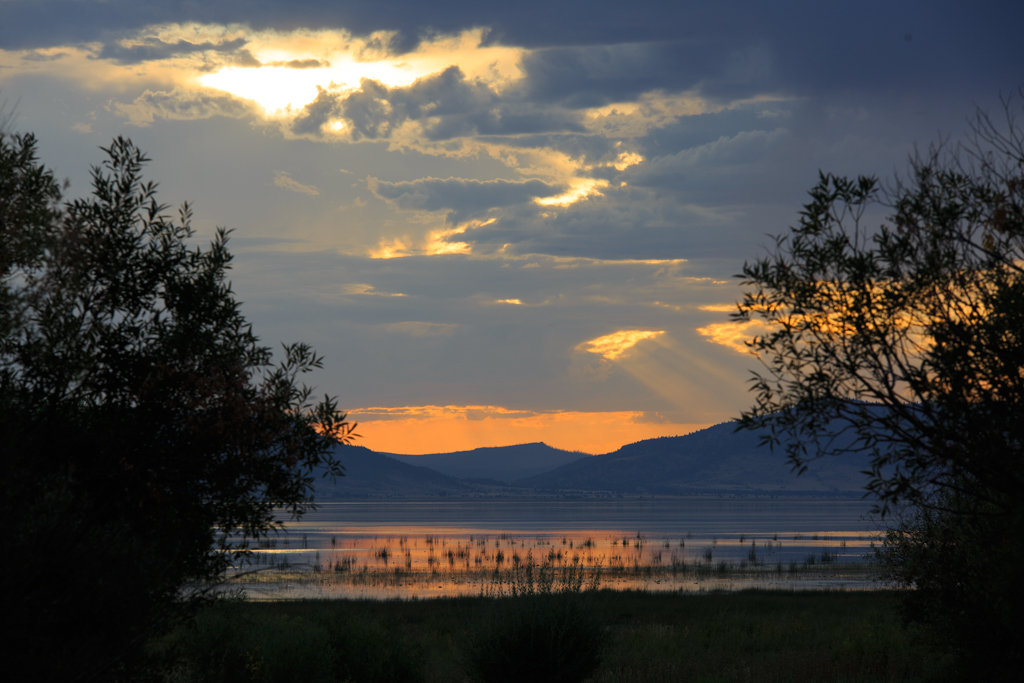 Well, I always say: "You don't know what this is good for" and "Make the best out of every situation". As the guy from the repair shop yesterday said to me that he could only make it today I thought by myself that I could drive up to Crater Lake. It's only 50 miles away and better than hanging around at Klamath Falls. Crater Lake was on my list for the places I want to visit but I skipped it because of the wildfires. Ok, let's have a look.
So I drove and from mile to mile it got hazier. As I left Upper Klamath Lake behind I could even smell it. Until I drove up the hill, I couldn't see the mountain, even if it's 7500 feet high because everything was covered with smoke. It is very dry here, no rain. So a little spark is enough to create a huge fire. On the road I saw camps of firefighters even with a heliport.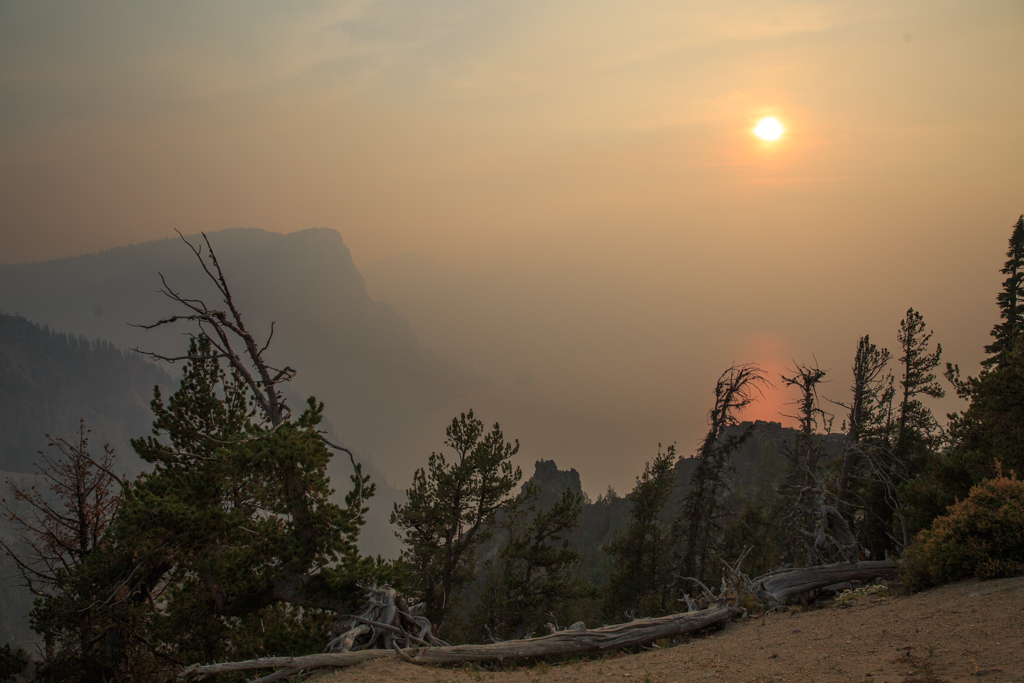 I checked in at Mazama campground and drove for the evening to the rim of the crater. There was not much to see because of the smoke, you even couldn't see the other side of the lake. I saw so many pictures but this was a complete other thing. The yellowish beige smoke made everything look the same. But when I looked up, I could see the blue sky – only because I was at 7200 feet. The sunset was quite strange, with intense orange colour first, then the sun simply disappeared in the smoke.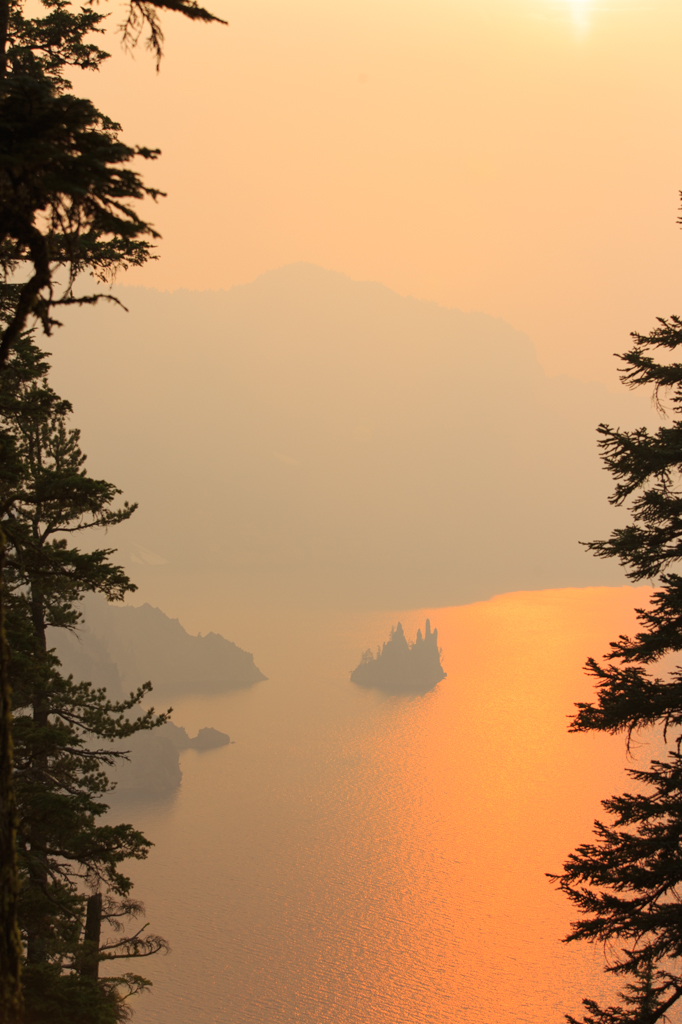 But I had the possibility to catch some interesting shots of Phantom Ship. I always wondered about the name but now I saw this little rocky island clearly as a ship leaving harbour.
The extreme steep walls of the crater are fascinating. There is wind every day so that there are growing small Whitebark Pines with their branches out of the wind. And there is mostly alpine vegetation that grows in this harsh conditions: Blazing sun in summer and 44 feet of snow in winter. I love the dwarf lupines with their blue and white flowers and the silvery hairy leaves.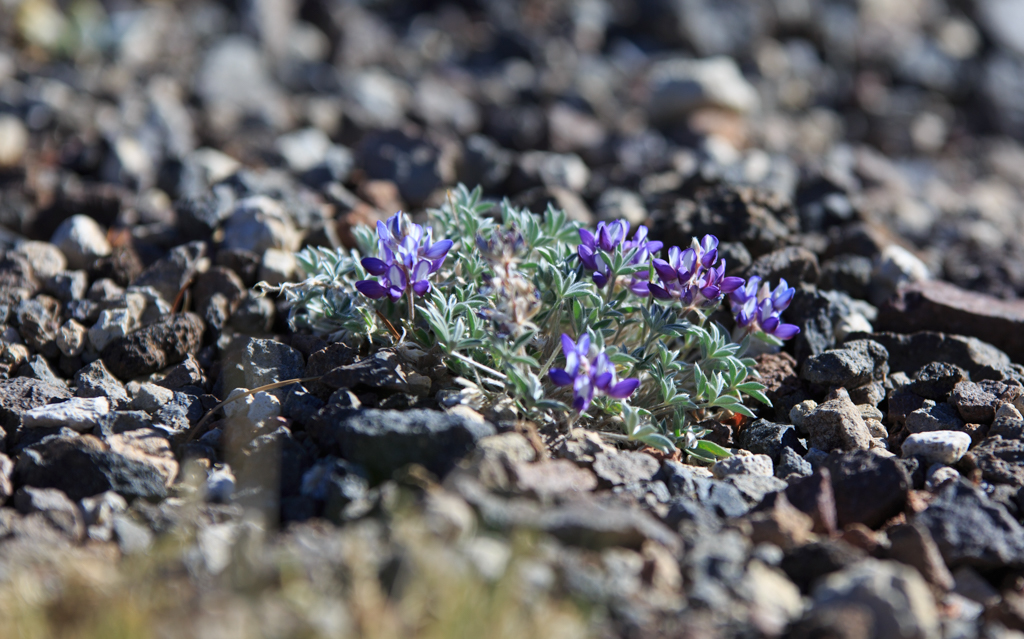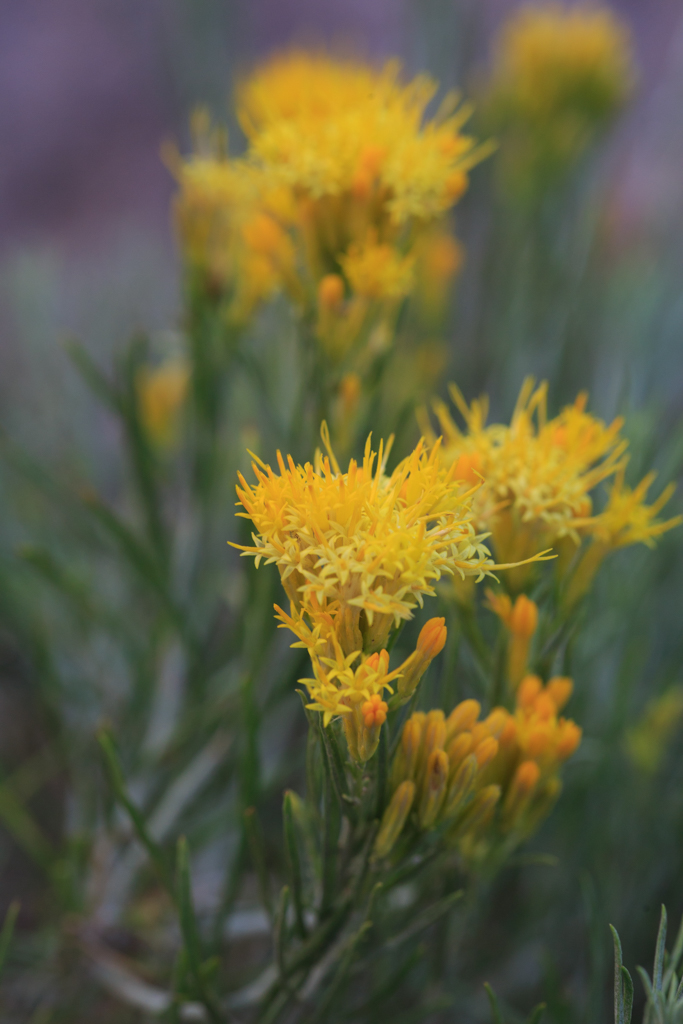 Tonight the sky was clear and full of stars. I didn't expect this! So I went up to the crater again and hat bright sunshine and blue skies. What a great view! Crater Lake left me with my mouth wide open… The smoke was not gone. The cold night pressed it down into the valleys. But this will change as the sun gets warmer and the smoke comes up again.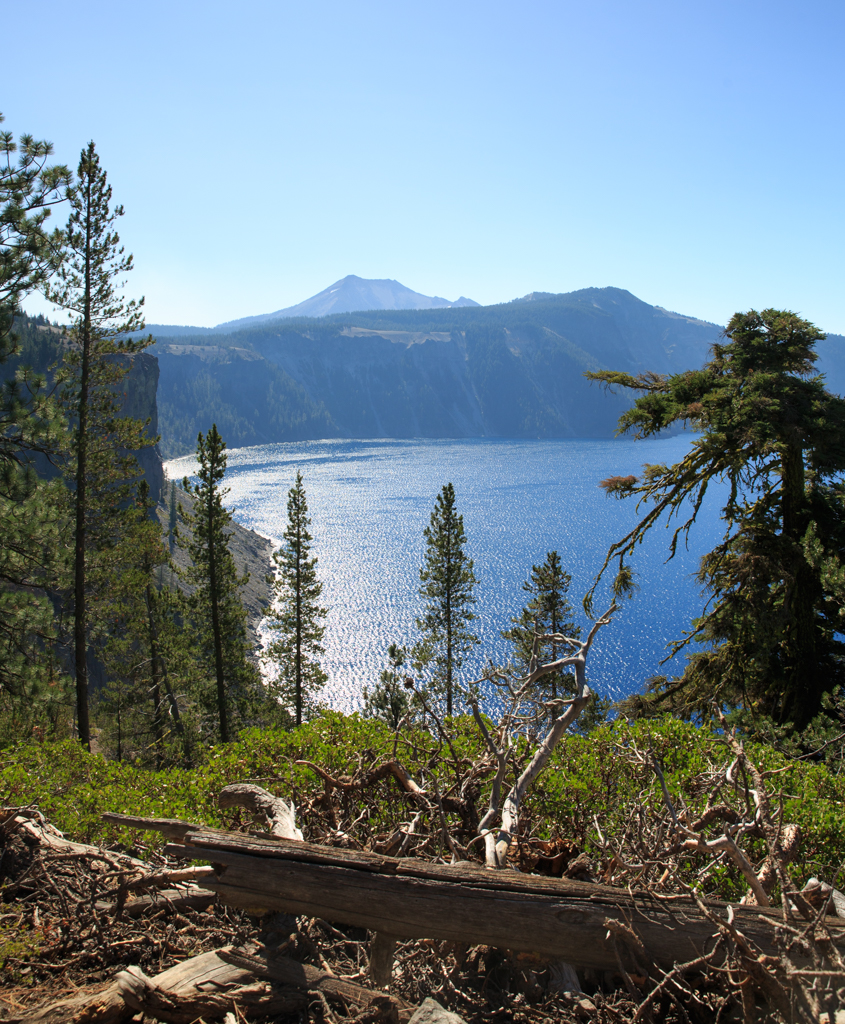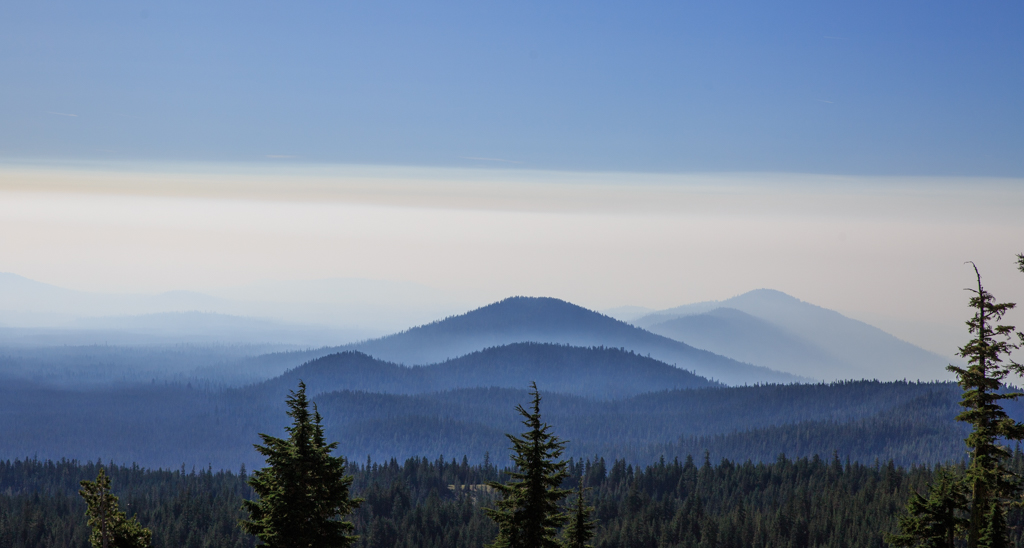 Down at Klamath Falls there the air is grey and beige and the sight is bad. Now after the repair I hope that I won't get any technical problems in the next weeks. But I read the weaterforecast for Yellowstone and Grand Tetons: It will be snowing this week. I hope it will be warmer when I arrive there. But the cooler weather and the rain ist good for the firefighters and I hope that the fires will be extinguished soon.